Search results
Nasoya Plantspired Korean-Inspired Sweet Chili Organic Toss'ables, 7 oz, $4.49
Oven-Baked Bite Size Tofu Cubes Marinated in a Sweet & Spicy Korean-Inspired Chili Sauce Certified Plant Based® Eating right just got easier with our flavorful bite-sized tofu cubes! our Korean-Inspired Sweet Chili Toss'ables is made with oven-baked high-protein organic tofu and marinated in a sweet and savory mix of sesame oil, aromatic garlic, and ginger with a touch of heat. Enjoy over steaming rice, noodles, salads, or colorful veggies for the ultimate hassle-free meal - perfect for when you're on the go!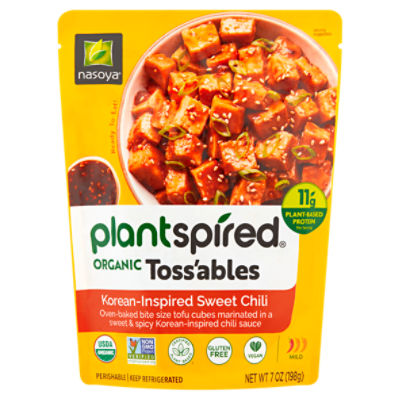 Nasoya Plantspired Korean-Inspired Sweet Chili Organic Toss'ables, 7 oz
Open Product Description
Can't find what you're looking for?