Search results
Badia Organic Ground Flaxseed, 6 oz, $2.29
Due to its attributed cosmetic and health benefits, and strong source of alpha-linolenic acid, Organic Flax Seed Ground has been widely used for over 100 years for various applications such as to make breads and as a source of fiber.nnBadia Organic Flax Seed Ground has a delicious taste, it will add texture, taste, color, and crunch to crackers, cookies, bread doughs, pasta, and more. This versatile ingredient can be added to granola bars, cereal, salads; sprinkled in smoothies, yogurt, and are a delicious ingredient for baked goods, and even meat patties! The possibilities are endless with Badia Organic Flax Seeds.nnStock up with this delicious and crunchy ingredient and transform your meals with this goodness.nBadia Spices manufactures, packages, distributes, a wide array of products for the everyday kitchen needs, from spices, herbs, seasoning blends, teas, side dishes, olive oils, and more. Badia is committed to offering the highest quality at the best price.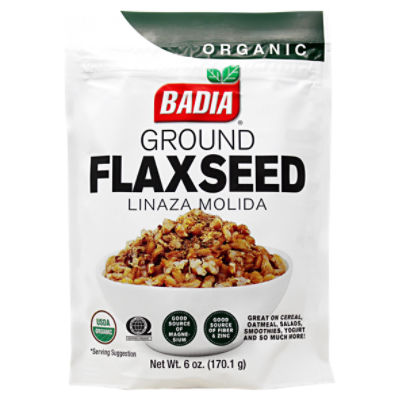 Badia Organic Ground Flaxseed, 6 oz
Open Product Description
Can't find what you're looking for?