Search results
white cloud Strong & Absorbent Paper Towels, 6 count, $7.99
6 Jumbo Rolls = 9 Regular Rolls*n*Compared to leading 2 ply paper towel brand regular rollnnChoose-A-Size® for Any Size MessnnEmbossing Pattern™nnWhite Cloud® paper towels are extra absorbent with the strength to tackle life's toughest messes.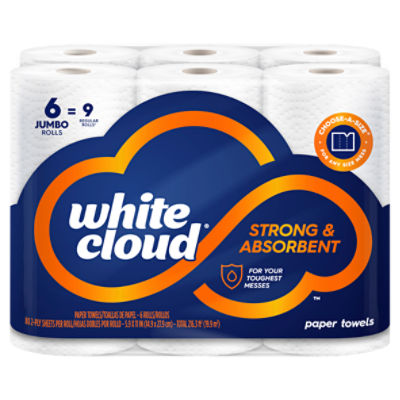 white cloud Strong & Absorbent Paper Towels, 6 count
Open Product Description
white cloud Ultra 3 Ply Bath Tissue, 12 count, $7.99
12 Triple Rolls = 36 Regular Rolls*n*Compared to leading ultra 3 ply bath tissue brand single roll.nnWhite Cloud® bath tissue is irresistibly soft with the strength to leave you feeling confident. Plus, it's gentle on skin because it's hypoallergenic and dermatologist-approved.
white cloud Ultra 3 Ply Bath Tissue, 12 count
Open Product Description