Getting Started
Register for an Account
You will need a shoprite.com account set up in order to place an online order or create shopping lists.
If you do not have an account, go to "Sign In or Register", found at the top of the page, and enter the required information

Click the "Register" button at the bottom of the form to complete your registration
Tips:
If you already have a Price Plus® Club card, the information you enter must match the information that is on your Price Plus card (name, address, and phone number).
If you do not have a Price Plus® card, click the button "Become a Price Plus® Club member" to sign up.

Select a Store
To create a shopping list or start an online order, you must first select the store that you will be shopping from.
Go to the shoprite.com Store Locator or click on "Select Your Store Location" from the top left of the page next to the ShopRite logo.
Find a store by selecting "State" and then "City" from the down menus, or by entering a zip code.
Scroll down through the list of available stores and select your desired store.
Tips:
Store and Pharmacy hours are also available from the "Store Information" link
Reserve a Timeslot
If you're placing an order for pick up or delivery, you can reserve a preferred timeslot before you start shopping. You will be required to reserve a timeslot before you can begin checkout online.
Select "Pickup" or "Delivery" from the Welcome Screen
Click on the "Reserve Pickup Time" or "Reserve Delivery Time" link at the top right of the page and click the button.
Click the "Reserve Pickup Time"or "Reserve Delivery Time" button and then choose the desired date & time from the available schedule on the pop-up window.
When selected, the slot will have a pink background and the word "Reserved" will appear in the slot to indicate you have successfully reserved it
Your reserved timeslot will also be indicated at the top right of the page.
Click "Keep Shopping" to being adding items to your cart or "Review Cart" to begin the checkout process
Tips:
Your reserved timeslot will be held for 90 minutes and will not be held if you sign out.
You can change your timeslot by clicking the down arrow next to the reserved time slot information at the top of the page.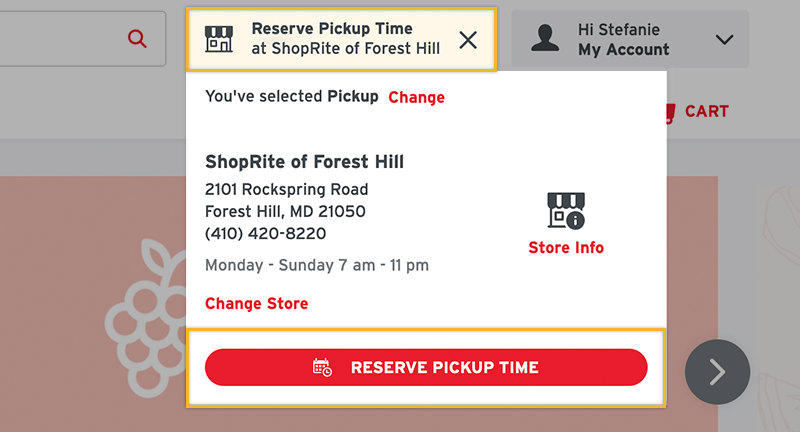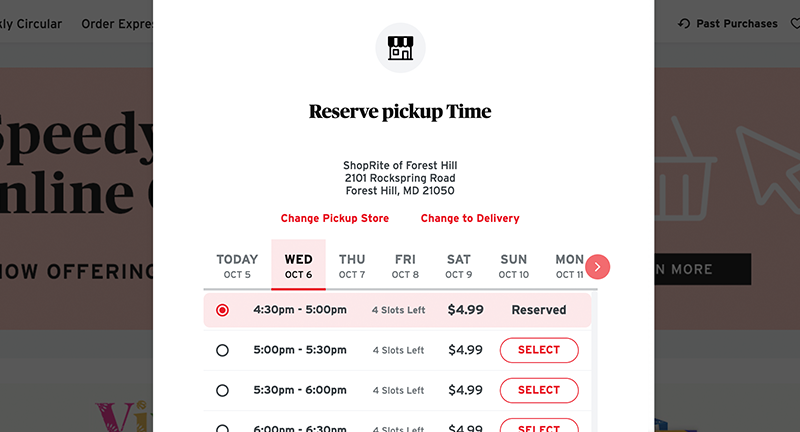 Add Items to Your Cart
There are numerous ways to add items to your shopping cart including: Shop Aisles, Weekly Circular, Weekly Promotions, Search, My List, and Past Purchases.


Weekly Circular
To view the current week's ad click on the "Weekly Circular" link found in the top navigation bar and select the circular ad you want to view from the drop down menu.
Click on the images within each page to view participating products and add to cart.
Past Purchases
Click Past Purchases to view and shop from all the purchases associated with your Price Plus club card in store or online.
From the "Purchased Within" filter on the left hand side of the page you can filter your past purchase history by 1 month, 2 months, 3 months, 1 year and All Past Purchases.
Shop Aisles
Select "Shop Aisles" from the navigation bar at the top left of the page to view our departments
Click on a department to view subcategories.
To add a specific item to your car, click the "Add to Cart" button.
A quantity of 1 will be added
To increase or decrease quantities of an item use the "+" or "-" symbols
Tips:
Pro-Tip: Add an item to your "Favorites" list by clicking on the heart icon (in the top right corner of the product box) to make future online shopping easier.
To add an item to your active shopping list, click on the list icon next to Favorites.
Your "active" list is the current list that is selected under the "My Lists" drop down.
Search Products
Search for products by typing in what you're looking for in the search bar at the top of the screen.
Narrow your results with the filters found on the left side of the page.
Tips:
If you cannot find the item you are looking for, add a note in the Order Instructions box at checkout, and your personal shopper will do their best to find the item for you.
My List
Create and view your saved shopping lists by clicking "My Lists" under the "My Account" dropdown at the top of the page.
Create a list by clicking on the "Create A New List" button from the "My List" drop down.
Any lists you create can always be found under "My Lists".
Tips:
If you are building a list make sure you have selected the list you want to add to by clicking on it in the "My List" drop down.
Ways to Save
Digital Coupons
Using Digital Coupons is a great way to save on your order every week.
Visit our digital coupon center by clicking "Digital Coupons" from the top navigation bar, or under the "Deals" dropdown
You can also go directly to coupons.shoprite.com.
Use the "All Coupons", "For You", and "Coupon History" tabs to filter through digital coupons.
Use the search bar to look for specific coupons.
Filter digital coupons by brand, most popular, most recent, expiration date, category, and amount.
Click to view coupon details and then click "Clip coupon" to load to your Price Plus card.
Weekly Promotions
To see all the promotions offered exclusively for online orders, click "Online Promotions" from the navigation bar at the top of the page.
These promotions require customers to spend a certain amount on products for a discount on their whole order.'
For Example: Spend $75 on Baby products when you spend $100 on your total order or more to receive $25 off your order.
A running total of your spend on qualifying items will be listed at the top of the page. You will be notified you when you've qualified for the savings.
Review Cart & Checkout
Please note that before you can begin the checkout process you will need to make sure you have reserved a timeslot
Review Cart
When you are done shopping, click on the shopping cart icon in the top right corner of the screen.
A "mini cart" summary will drop down where you can see all the items, prices, and quantities in your cart.
To being checkout, click "Review Cart".
Once on the Shopping Cart page, your cart will be organized alphabetically by department.
You can also see your progress towards promotions that you are partially qualified for.
If your store offers online shopping, you can click "Checkout".
If your store does not offer online shopping you can print or email a list to yourself or someone else to take to the store.
Tips:
You can save your cart items to a specific list by clicking the "Save for Later" button at the top of your cart.
Pro-Tip: You can use The ShopRite app in store to view your cart as an "in-store checklist" to help you navigate through the aisles while shopping in store.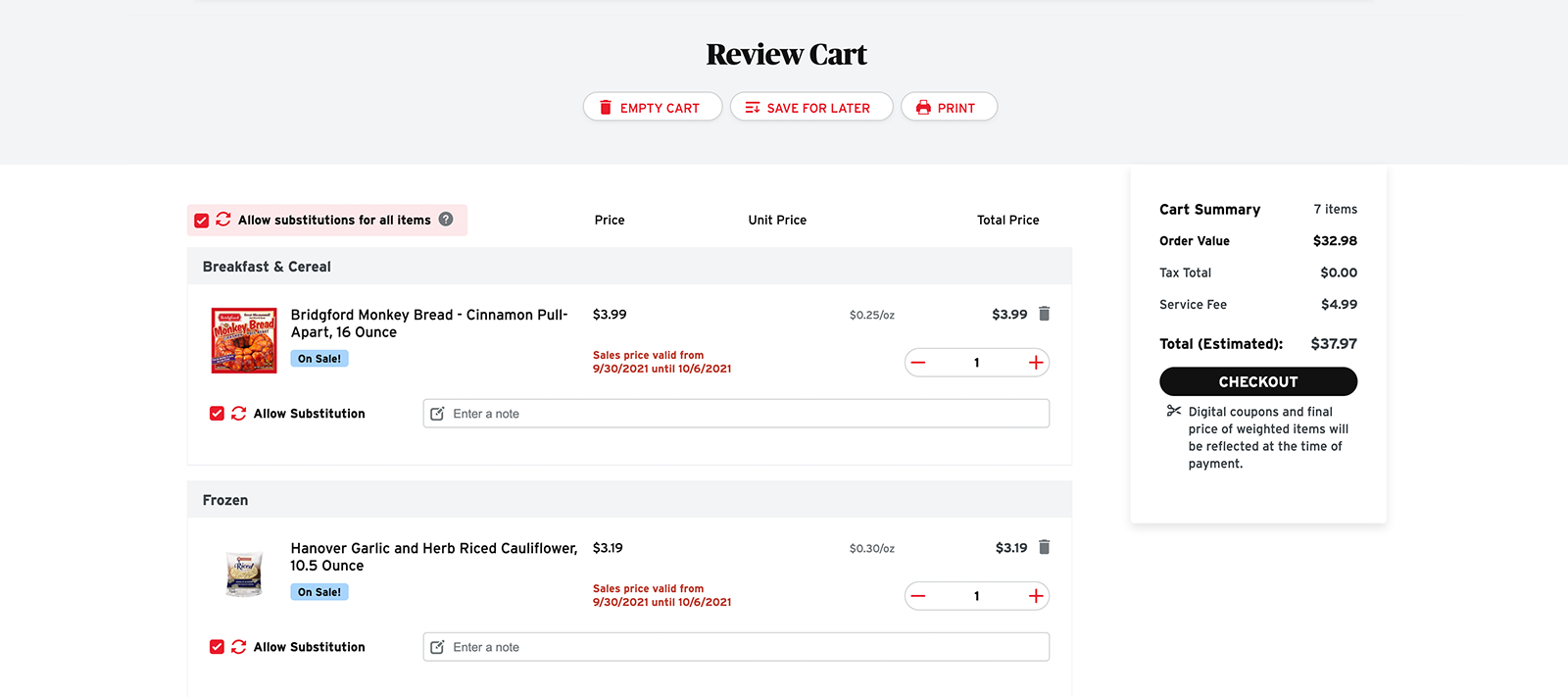 Checkout
Once in the checkout process you will be asked to confirm your reserved timeslot for pick up or delivery.
If a change is required, click "Edit" to change date/time.
Enter any notes for your personal shopper in the field provided.
Click "Continue to Payment"
Payment
Payment options vary by store.
If you choose the "Pay Online" feature, you will be brought to the "Payment" page.
Enter your credit card information and billing address.
Enter any promotional codes and click apply.
If a promotion code is applied you will see the deduction in the "Order Summary" in the right corner of the screen.
Place Order
Once your payment has been completed, click "Place Order".
You will be taken to the "Order Confirmation Page"
The confirmation page will display your order details: store or delivery address, payment type, total, and order number.
You will also receive an order confirmation email in your inbox.
Congratulations! You've placed your first online order.

Modifying Your Order
Once your order has been placed you will be able to modify, or cancel it, if necessary.
Once your order has been placed you can go in back in and modify it.
You will only be able to modify your order up until your store begins to shop or "process" your order
Orders that can no longer be changed or canceled are labeled as "Processing".
Next to the order you wish to modify click the "Change" button.
All items from your order will be added back in to your cart.
If you already have items in your cart you will be asked if you wish to merge those items with those from the order that you are changing.
If you wish to cancel the order completely choose "Cancel". Your order will not be processed and your timeslot will be canceled.
You will have 90-minutes to modify your order and hold your current timeslot.
A timer will be shown at the top of the page as you shop, you must complete your changes before the 90 minutes expires.
Once you have made the desired changes, proceed through the normal checkout process.