Search results
Horizon Organic 1% Lowfat UHT Milk, 8 Oz., 12 Count, $14.99
Take the organic goodness of Horizon milk on-the-go with Horizon Organic UHT 1% lowfat Plain Milk Boxes. Great as a lunchbox stuffer or snack, these single-serve milk boxes offer a wholesome alternative to juice boxes. Each milk box provides many nutrients, including vitamin A, vitamin D, and 8 grams of protein. And thanks to their special packaging, these shelf-stable milk boxes lock in delicious taste without refrigeration. More than 20 years ago, we became the first company to supply organic milk nationwide—and we've remained committed to the organic movement ever since. Our USDA Certified Organic products are made with non-GMO ingredients, from cows that are given no antibiotics, no persistent pesticides, and no added hormones.* We strive to do good by our cows, too: they spend much of their time out in the pasture where they feel most at home, and graze on a diet that includes organic grass. It's all part of our commitment to making better choices for ourselves, our cows, and our planet. *No significant difference has been shown between milk from rbST-treated & non rbST-treated cows.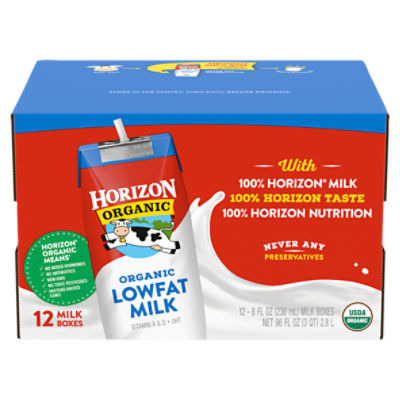 Horizon Organic 1% Lowfat UHT Milk, 8 Oz., 12 Count
Open Product Description
Parmalat Whole Milk, 32 fl oz , $2.49
Parmalat Whole Milk, 32 fl oz Did You Know...? • Parmalat milk doesn't need to be refrigerated until it's opened, so you can keep one in the pantry until opening. • We heat our milk at an ultra high temperature (UHT) to keep it fresh longer. • Tastes just like real milk, because it is real milk! Our Promise 100% Real Milk Enjoy the fresh taste of high quality grade A cow milk, with no preservatives. A Nutritious Glass of Milk Our milk is packed full of good things such as vitamins A and D, protein, and calcium. Stays Fresh Longer! Here at Parmalat, we heat our milk at higher temperatures than regular pasteurized milk. This way, our milk stays fresh longer, and doesn't need to be refrigerated until opened.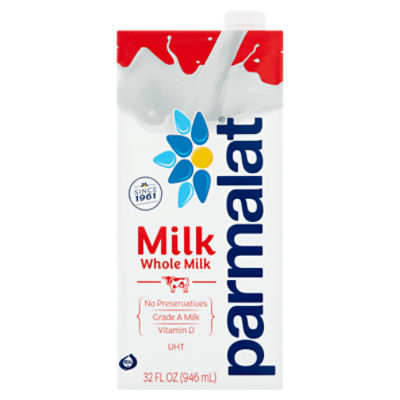 Parmalat Whole Milk, 32 fl oz
Open Product Description
Offer Valid: Sep 24th - Sep 30th
Can't find what you're looking for?