Search results
Hellmann's Sauce Roasted Garlic, 9 oz, $3.99
Hellmann's Roasted Garlic Sauce is a fresh addition to your condiment collection. It's made with real garlic for a robust, warm-roasted taste. You can try it as a dip, drizzle or dressing for sandwiches, vegetables or anything else that could use some jazzing up. So versatile, it's a great sauce to have on hand for all kinds of snacks and recipes. nnThe savory taste of real roasted garlic makes this sauce a standout. For those who are looking for an alternative to classic condiments like ketchup and mayonnaise, or dressings like a thousand island dressing and Italian dressing, the versatile and delicious flavor of warm roasted garlic will be a welcome addition to the kitchen.nnPackaged in a handy squeeze bottle for utensil-free usage, this sauce is easy to keep on hand and comes in a flavor that the whole family will like. Hellmann's has always been known for real, simple ingredients- and this condiment is no exception. Containing no artificial flavors or high-fructose corn syrup, it's also gluten and dairy free, and low in added sugars. Now you don't need to eat out to experience the latest flavor sensations. You can make any lunch, dinner or cookout restaurant-worthy with a simple drizzle of this creamy, crave-worthy sauce.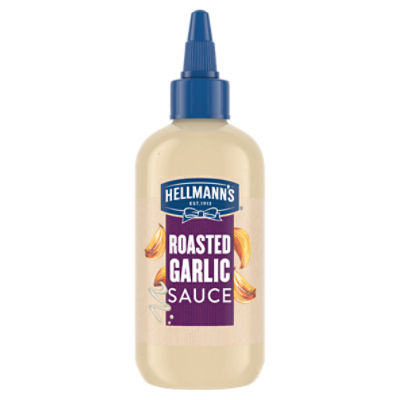 Sponsored
Gluten Free
Diabetes Friendly
No High Fructose Corn Syrup
Hellmann's Sauce Roasted Garlic, 9 oz
Open Product Description
Can't find what you're looking for?